Dental Bridges
Not only do missing teeth affect your smile, they can also lead to a number of dental issues such as misalignment, an inability to bite properly, and in some cases even affect your speech. Having a dental bridge fitted is a very effective solution, and will ensure that both your smile and teeth remain in great condition. As an alternative to a dental implant, a bridge offers a way to replace one or more missing teeth. A dental bridge can enhance your smile, chew more effectively, and even improve speaking.

How does it work?
A dental bridge uses the teeth on either side of the area you missing a tooth and connects them all together. It is permanently fixed in place. The procedure involves preparing the teeth at either end of the gap in order to make room for the bridge to be fitted onto them. After taking an impression of your teeth, a natural looking prosthetic bridge is made by a dental lab. The bridge can then be permanently cemented onto the prepared teeth, creating a seamless look that completes and restores your smile.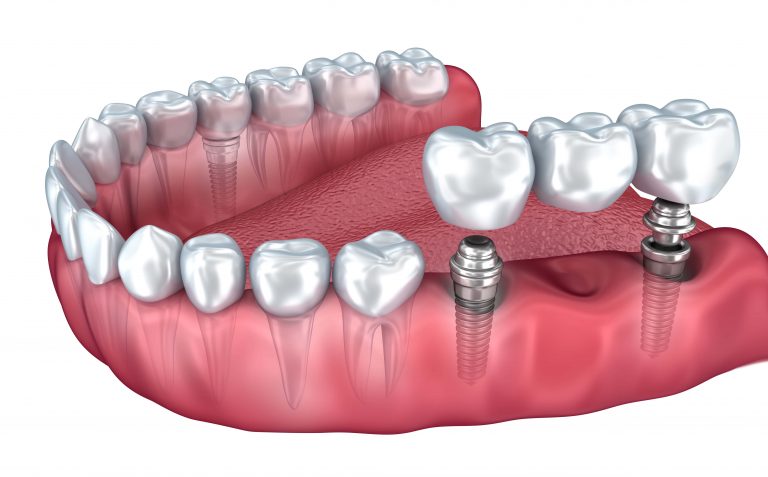 Bridges vs Implants
Whether you're missing one tooth or several teeth, both dental bridges and dental implants are great ways to restore your perfect smile. With this being said, bridges can in many cases be a less invasive and a more cost effective solution. Bridges are also very effective at replacing larger rows of missing teeth, as a dental bridge only has to be fixed to the teeth at either side of the gap. Don't worry if you are undecided on which solution is best for you. At Parkway Smiles, we will answer all your questions so that you can decide which option best suits you.
Fixed Implant-Retained Bridges
If you have an area with a number of missing teeth, then a fixed-implant-retained bridge is the perfect solution for you. This procedure involves placing a dental implant at either side of your gap, and then fixing a bridge to these implants instead of any of your existing teeth. Using this method, both your smile and your dental health will be restored without compromising any of your existing teeth.
If you are missing a single tooth, have multiple teeth gaps, or simply need protection for a weakened tooth, then contact our experienced team now and start the short and easy process of improving your dental health and restoring your smile. You don't have to put up with less than perfect teeth, contact us now on (403) 452-2833 or at [email protected] and book a consultation.
Schedule An Appointment Today!